In August 2023, we held an internship with two Japanese students and four international students. In this article, we will introduce the experiences of the participants.
Nepali international student (man)
The internship at Dandelions was a very enjoyable experience. I met people from various countries and became friends with them. At the same time, I learned a lot as an intern. Participating in this internship training provided me with an opportunity to learn business manners necessary in the world of work. I studied computer science in high school and came to Japan to study in 2019. I am currently studying IT as a student at Aichi Sangyo University.
On the first day of the internship, we had to decide on captions for the LINE stamps of the company. I experienced working as a group, which was really interesting. Next, we worked on making our own business cards. We had to write a short self-presentation, including our past, present, and future. It was not easy to compile information about myself, but thanks to that, I was able to know more about myself.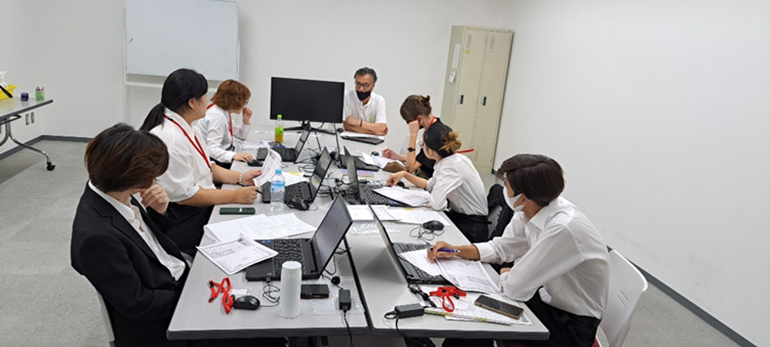 On the second day, we had to taste sweets we bought and to write our impressions for the EC site. I learned that tasting the sweets and writing reviews about them was to make it easier for customers to understand what flavor, texture, aroma the sweets have.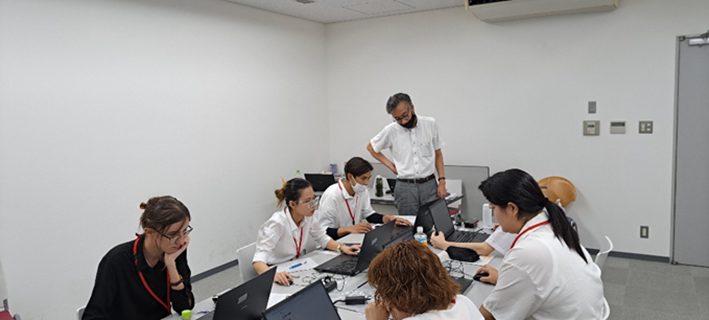 On the third day, we practiced exchanging business cards, which is not really something that you learn at school. After that, there was an explanation about web design. I had studied web design and HTML at school, but the explanations given during the internship were completely different from the ones given by school teachers who were limited to books. In the afternoon, we worked on creating personas and creating a website. I usually do presentations and university assignments by myself, but it was also a great experience to create something with my fellow interns.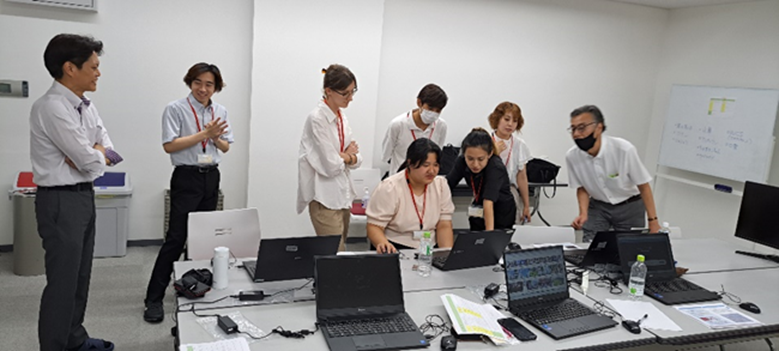 Korean international student (woman)
I participated in this internship with the goal of experiencing something new. I was nervous as it was my first internship, but I had a great time working with other interns and discussing about not only IT-related knowledge but a variety of things.
On the first day, we decided on the captions for the LINE stamps. Some captions came to mind right away, while others did not, but after thinking about it as a group, we were able to decide on captions that were suitable for the stamps.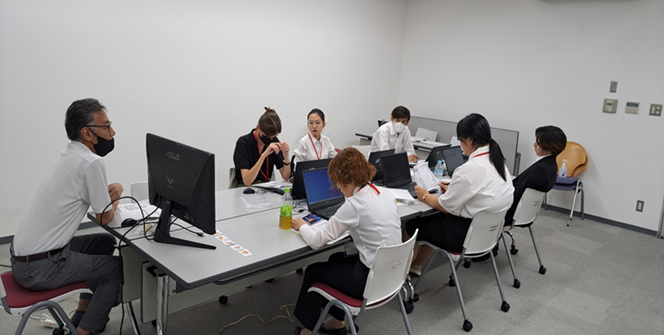 On the second day, we did a test experience. The test consisted on checking if a website was working properly or not. It was a good opportunity to understand the importance and the difficulty of website testing.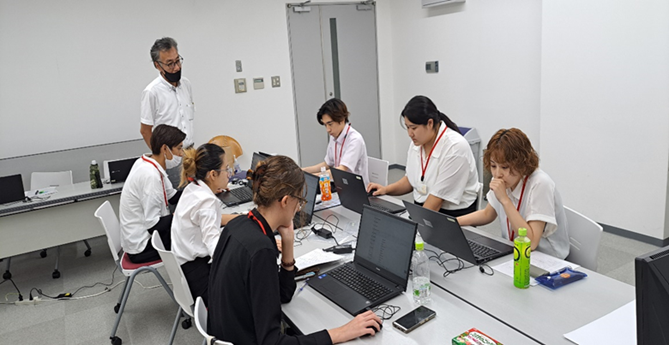 On the third day, we did web design. I realized that marketing research and persona setting are important before starting a design. Through group discussions, we worked on creating a persona that could convey the charms of the Tokai region. Although there were some tasks that required specialized knowledge, I believe that by working together as a group, we were able to create a highly complete web design.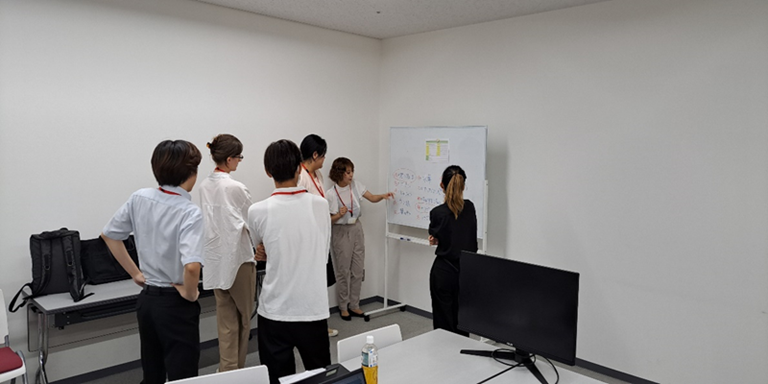 The Dandelions internship was filled with new experiences, and I was able to achieve my own goals. I am glad that I was able to work on LINE stamps captions, web test, and web design, which I would not normally have the opportunity to.
Vietnamese international student (woman)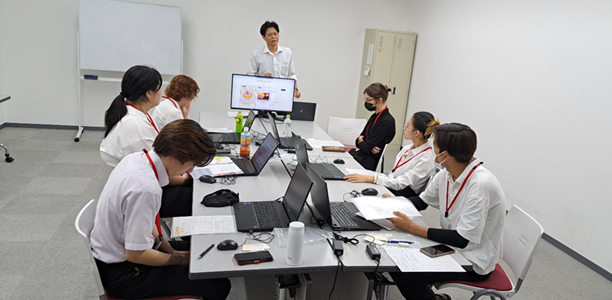 In August 2023, I participated in an internship with Dandelions. This experience was very meaningful and I learned a lot.
First of all, the actual work experience not only allowed me to implement the knowledge I had learned at school, but also provided me with practical knowledge that could not be learned from textbooks or classes. During the practical experience, I understood the importance of project progress management and team cooperation, and had the opportunity to improve my problem-solving skills during the week's work.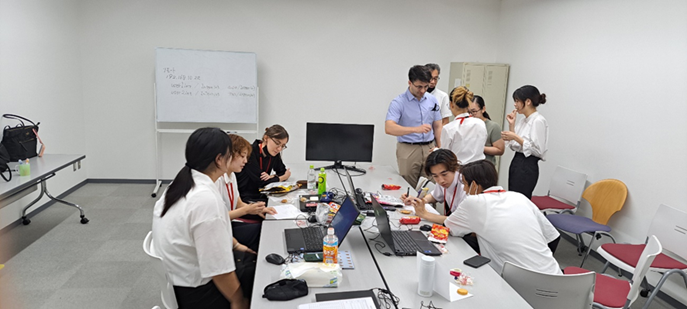 Additionally, through communication with team members and supervisors, I learned the importance of manners and professionalism as a worker. I realized that proper reporting, proposal-making, and collaborative skills are essential to success in a workplace.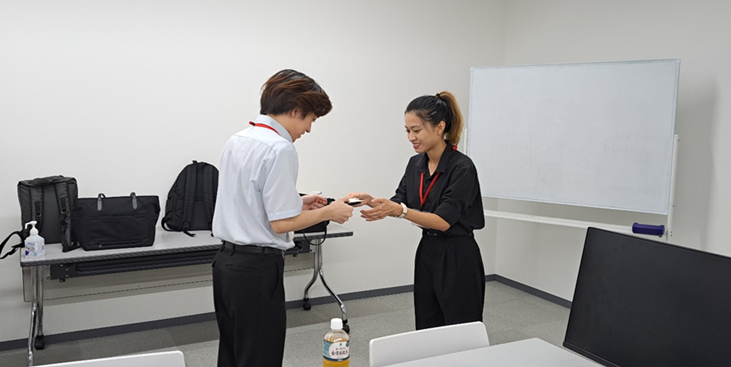 The internship at Dandelions was a big step in my career in Japan. It was an experience that bridged the gap between theory and practice in the field of IT management, exposed me to the latest trends and technologies in the industry, and gave me an opportunity to practice my skills. I am confident that this will lead to my future growth.